Best PWA Platform for Magento: Magento PWA Studio vs Vue Storefront
the tech world, fulfilling every doorstep needs offering the products and services. Simultaneously, they are gaining rapid momentum in their growth and reaching millions of users. Probably, following the new technologies that you probably are unaware of. Nowadays, a new term is being highlighted in the industry, and that is Magento PWA studio.
We all are aware of the fact that cell phones have now become an excellent medium of ordering online products. Hence, the demand for mobile-friendly websites or PWA (Progressive Web Apps) has also increased. They give the majority of consumers hassle-free online shopping experience. Noticing such an elevation in the usage of PWA websites, Magento has introduced its project, namely, Magento PWA Studio, that provides assistance in coming up with the stores that are more compatible with the consumers.
Another major point highlighted in the online world is Vue Storefront, which is considered as the open-source technology for building webshops. But when you have two options, how would you figure out which one is good to continue?
In this piece of content, we have put all the information related to Magento PWA Studio & Vue Storefront. Take a look-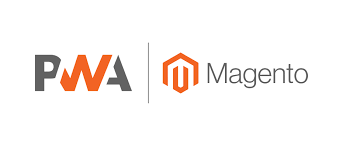 Before we kick-off, the topic, learn more about PWA
PWA (Progressive Web Application) is an advanced website that embraces the properties of apps, giving the customer a mobile app-using experience on the smartphone. Magento recognized the positive impact of this new technology among people and hence, came up with an all-new project called Magento PWA Studio.
Magento PWA Studio
It is the tech trend that has transformed the working of overall websites. This well-renowned and popular project of Magento is an organized set of advanced tools by developers which is used to create & maintain the PWA storefront.
Along with the introduction of Magento 2.3, this project allows the owners to expand their business reach among mobile users. In simple words, Magento PWA Studio improves the conversion rate of your online business in an efficient way. Not only this, but it further assists the businesses to contribute more to the overall working of websites in an effective manner.
Positive Side of Magento PWA
We have mentioned or covered up here all the points showing it is the right platform to choose-
Numero of development tools: It is a well-known PWA platform as it consists of a number of development tools that a user can put in use for the development of PWA. With the assistance of these tools, you can enhance the working of PWA in the foremost way possible.
Use GraphQL: You may be very well-aware of the properties of GraphQL syntax that allows the developers to ask for any data from different sources. Magento PWA Studio embraces the characteristics of GraphQL, hence you can fetch the data from multiple sources easily.
Easy to Frame Up: You can setting up that by your backened. With a few mouse clicks, you can easily frame up the Magento PWA studio and hit your business to another level.
Home Screen Option: Yes, you can download the Magento store along with the native apps on your phone screen. Whenever you browse any website, a message will pop up by the Magento PWA to add native apps on the mobile home screen. By doing this, users can easily retrieve any online app.
Offline Access: It can also function offline. Yes. This offline feature truly adds more points to its working. Now, one can still enjoy several web apps on the phone. Even, if they are not connected to the internet.
Negatives of Magento PWA Studio
Do not support the iOS system: Yes. The feature of offline access doesn't perform well on iOS devices, and hence the overall performance affected.
Lack of several development characteristics: The absence of several PWA development characteristics in Magento PWA Studio sometimes leads the user in a troubling situation.
Works only on Magento Backend– As it is introduced as a Magento's project, therefore, it only supports the Magento backend.
Vue Storefront
Vue Storefront basically fills those gaps that Magento PWA Studio has mislaid. If we discuss briefly, then this open-source software has the enormous capacity to perform well on different software platform's backends including the one i-demand, Shopware too, and many more and they perform it by using an API. Just like others, this technology also holds its negative and positive sides that will make you think one more time before deciding the ideal PWA platform.
Positives of Vue Storefront
Vue Storefront is widely popular because of its several benefits that users find impressive enough to choose this PWA platform.
Weekly Updates: Yes. Several updates enhance the functioning of this PWA platform & helps it to drive the best results.
New Goals: Vue Storefront was first set in motion in 2017. Now, they are also heading towards its new goals to welcome the user with a better web experience. This technology is also planning for GitHub.
Latest Tech: These days people are interacting with new PWA Technologies. One of them is Vue Storefront, built on javascript (Vue.js). This technology basically allows both client & server to edit the changes writing a Javascript code.
Negatives of Vue-Storefront
Vue Storefront is not free of flaws. Here are a few drawbacks of this PWA platform that you should know. Check it out-
No documentation: You will find the incomplete documents in Vue Storefront, which is not just easy to ignore.
Uses REST API: Another major drawback of the Vue Storefront is that it uses REST API, which can't make the asynchronous calls. It also doesn't respond quickly.
Don't embrace the capabilities of Magento: Yes. Vue Storefront doesn't embrace the features of Magento. Bugs can be resolved as per time if founded.
Support iOS, but not fully: Yes, this PWA platform supports iOS devices but not completely. Some missing characteristics with iOS devices include offline access, home screen feature, etc.
An Overview on the Comparison of Magento PWA Studio & Vue Storefront
With the introduction of Magento PWA technology, a positive change has also been noticed in the online world that drives several online businesses to say a big yes to it. But simultaneously, change is the part of every online business to differentiate from others. Such a requirement of change leads to the development of another new PWA platform, i.e.; Vue-Storefront which is loaded with ultimate features that Magento doesn't have. But, at the same time, it can fit into the Magento environment.
Both PWA platforms, Magento PWA & Vue Storefront are effective enough to meet the user's needs. But, if you ask us, then we will say, Magento PWA is a better choice as compared to another one as it is simple to carry forward manually. Hence, it will save your time & resources efficiently.
Final Words
PWA (Progressive Web Apps) is modern technology, assisting several online businesses to grab the attention of those users who prefer mobile-browsing. Hence, there is nothing wrong with entitling the PWA apps as a "user-oriented tool," that renders the users an excellent online experience.
Undoubtedly, PWA is the future for the e-commerce industry, which will help to grab the attention of more pleased customers effectively. Many online businesses are using several PWA platforms to provide the customer with a great experience. So, you should make your investment in the development of PWA for your web store.